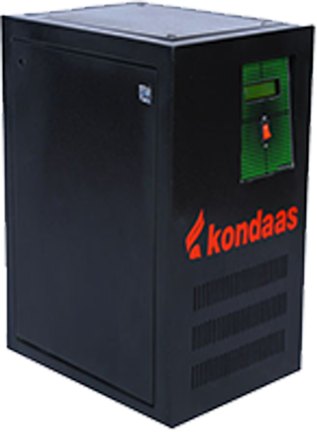 DSP Sine Wave Static UPS (1In- 1Out)
Sophisticated and critical industrial equipments and systems must not be left to face power problems. When connected with uneven power output, you are exposing your appliance to danger where they are mostly encounter with problems as sags, surges, noise, brown outs, black outs etc.
In an industry you are required to keep electricity consumption as low as possible by ensuring that there is no interruption in the operation as well. Kondaas DSP Sine Wave Static UPS is specialized in providing clean and stable power supply to all connected appliances and equipments. We have developed our DSP Sine Wave Static UPS on world's most advanced technology known as DSP.
Features
State of the Art MOSFET/IGBT Based PWM Technology to increase Crest Factor
Auto Sense Intelligent Control Smart Charger
Electronic change- over, hence much better reliability
Quiet of AC motors as well as other inductive loads unlike the noise that emanates from modified Sine Wave Systems
Very low Total Harmonic Distortion < 3%
Fast Changeover ensuring Compatibility with Computers
TDR(Time Delay Relay), especially for AC compressor based applications
Mains Mode Short Circuit Protection
Surge Load Capacity up to 300%
Less Operating Coast as compared to that with Online UPS as well as DG Sets
Bypass Switch in case of system failure
Compatibility with D.G Sets
These Static UPS's can be integrated with solar power to charge the batteries by using external solar charge controllers.
Applications
Major power Back up source in corporate offices as well as Call Centers
Computer & peripherals /office Equipment like, Scanners, Printers, Fax Machine etc.
Emergency & Mobile Power Systems
A.C and all Compressor Based Applications
Petrol/Diesel Dispensing(Filling) Machines
Thread Mills & other Health Equipment in Homes/Gyms
Water Pumps and similar Motor Based Applications
Product Range
| | | | | | | | | |
| --- | --- | --- | --- | --- | --- | --- | --- | --- |
| Capacity | 2KVA | 2.5KVA | 3KVA | 3.5KVA | 5KVA | 7.5KVA | 10KVA | 12KVA |
| Nominal Voltage | 24VDC | 36/48 VDC | 48 VDC | 48 VDC | 48/96 VDC | 120 VDC | 180,192 VDC | 192 VDC |
Ac Mains Mode
| | |
| --- | --- |
| Input Voltage Range (Normal Mode) | 100 to 280 VAC ± 5 VAC |
| Input Voltage Range (UPS Mode) | 180 to 260 VAC ± VAC |
| Changeover Time Maximum | <=30 ms |
| Max. Charging Current (NC) | 9A ± 1A |
| Max. Charging Current (HC) | 12A ± 1A |
| Boost Charging Voltage | 14.4 ± 0.2 VDC |
| Float Charging Voltage | 13.7 ± 0.2 VDC |
Battery Backup Mode
| | |
| --- | --- |
| Output Voltage at No Load | 220 VAC ± 7 VAC |
| Output Frequency | 50.0Hz ± 0.5Hz |
| Output Wave Form (At No Load) | 100% Pure Sine Wave |
| Battery Low alarm | 10.6 ± 0.2 VDC |
| Battery Low protection | 10.4 ± 0.2 VDC |
Multi Color LCD Display Colors
Yellow Color : For Inverter/ UPS mode. No AC Mains (Utility Power)

Green Color : When AC mains (Utility Power) is available

Red Color : In case of any Abnormal Condition
Displaying Parameters :
AC mains voltage
O/P Load in %
Battery input voltage
Battery Charging/ Discharging current (Batt. Bar)
Faults Status
Overload
PV Reverse
Short Circuit
Fuse Trip
Over Temp (Thermometer)
Low Battery (Empty 'Battery' Blinking)
Inverter Status
Solar availability Status
Protection :
PV Reverse, Reverse Current Flow (to PV module), Battery Voltage Low (4 Auto Retries), Over Load (6 Auto Retries), Battery full Charge, Over Temperature, Short Circuit